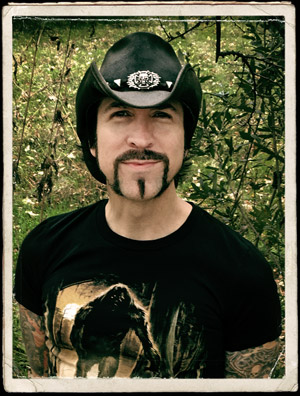 Lyle Blackburn is an author, musician, film producer, and cryptid researcher from Texas. His acclaimed books, such as "Beast of Boggy Creek," "Beyond Boggy Creek," and "Lizard Man," reflect his life-long fascination with legends and sighting reports of unknown creatures.
Lyle is also a staff writer for the monthly horror magazine, Rue Morgue, founder of the rock band Ghoultown, and narrator/producer of the Small Town Monsters film series.
Lyle has been heard on numerous radio programs including Coast To Coast AM, has appeared on various television shows airing on Discovery, Animal Planet, Destination America, A&E, HGTV, and CBS, and served as consulting producer and special episode host for the tv show Monsters and Mysteries in America.
Most recently, Lyle was featured in the documentary film, Boggy Creek Monster.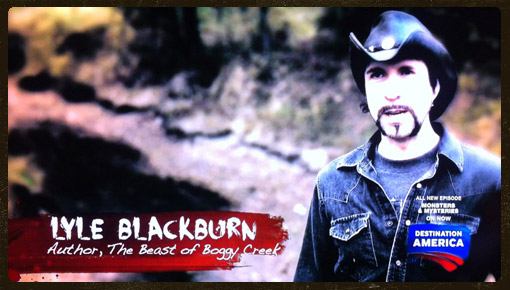 Television Appearances...

• Monsters & Mysteries: The Blackburn Files (Destination America)
• Monsters & Mysteries in America (Destination America)
• Finding Bigfoot (Animal Planet)
• CBS Sunday Morning Show (CBS)

• Home Strange Home (HGTV)
• Shipping Wars (A&E)
• Elvira's Movie Macabre (syndicated)

Television and Film Credits...

• Executive Producer / Narrator / Co-Writer: The Mothman of Point Pleasant (documentary)
• Co-Producer / Narrator: Boggy Creek Monster (documentary)
• Consulting Producer: Monsters & Mysteries in America - Season 3 (television)




Conference / Convention / Speaking Appearances...

• International Cryptozoology Con - St. Augustine, Florida
• Texas Bigfoot Conference - Ft Worth, Texas
• Original Texas Bigfoot Conference - Jefferson, Texas
• Ohio Bigfoot Conference - Cambridge, Ohio
• Boggy Creek Festival - Fouke, Arkansas
• Mothman Festival - Point Pleasant, West Virginia
• History Haunts & Legends - Jefferson, Texas
• Florida Skunk Ape Conference - Orlando, Florida
• Cryptopalooza - Jefferson, Texas
• Crosstimbers Creature Con - Norman, Oklahoma
• Lake Worth Monster Bash - Fort Worth, Texas
• Honobia Bigfoot Conference - Honobia, Oklahoma
• Museum of the Weird - Austin, Texas
• Nebraska Bigfoot Conference - Hastings, Nebraska



• Festival of Fear - Toronto, Canada
• Texas Frightmare Weekend - Dallas, Texas
• Scarefest - Lexington, Kentucky
• Fantom Fest - San Antonio, Texas
• Carnival of Parahorror - Buffalo, New York
• Haunted Holidays - Marshall, Texas
• Paranormal Summit - Sacramento, California
• Paranormal Expo - Little Rock, Arkansas
• Weird West Fest - Giddings, Texas
• Gulf Coast ParaCon - Biloxi, Mississippi
• Ark-La-Tx Comic Con - Texarkana, Arkansas
• Claibourne Public Library - Homer, Louisiana
• Bedford Public Library - Bedford, Texas
• Anomalist's Books - Lexington, Oklahoma
Radio Appearances...

• Coast To Coast AM
• Darkness Radio (Fox News 1130 AM)
• WBAP Morning News (WBAP 820 AM)
• Alive At Five (KYNT 1450 AM)
• Moore's Outdoors (KLVI 560 AM)
• Exploring Unexplained Phenomena (KZUM 89.3 FM)
• Nightwatch
• The Gralien Report
• The Bigfoot Show
• Project White Paper
• Nocturnal Frequency
• Bigfoot Tonight
• Binnall of America
• Jerry Pippin Show
• Bigfoot Diaries
• Brain Waves (Dread Central)
• Grand Dark Conspiracy
• The Crypto Zoo
• Chester Moore's Extreme Wildlife
• Truth Connections
• Into the Dark
• The Spencer Hughes Show
• Crypto Reality
• DisinfoCast
• Sasquatch Watch
• Expanded Perspectives
• Paranormal and Beyond
• Dead Air
• E.P.I.C. Voyages
• Dead Air
• Onyx Paranormal
• SasWhat?
• Farside
• Arcane
• Monster Guys
• Exploring the Bizarre

• Inside the Paranormal (WVQC 95.7 FM)
• Where Did the Road Go (WVBR 93.5 FM)
• Fringe Radio (KTKK 630 AM)
• The Outlander (CBS Radio)
• The Eggman Show (KTOK 1000)
• Spooky Southcoast
• Encounters
• Squatch-D TV
• Walk In Darkness
• Jim Harold's Paranormal
• Night of the Living Podcast
• Search For Hidden Beasts
• Inspired by Bigfoot
• EXS
• Open Canvas
• The Chosen
• Into the Fray
• Do You Believe?
• Beyond the Edge
• Nocturnal Frequency
• Stranger Advice
• Just Energy Radio
• East Texas Mysteries
• Unknown Origins
• Continual Condition
• U.S. Paranormal
• Paranormal Minds
• Nocturnal Confessions
• The Paracast
• CryptoLogic
• Bigfoot Hotspot
• Delta Paranormal
• After Dark
• Paratruth
• Paranormal Central
• Phenomenon Encountered